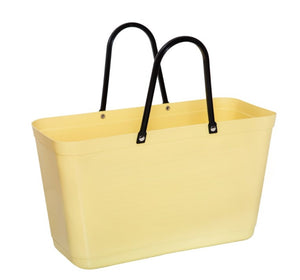 Large Swedish Hinza Tote Bag
The Hinza bag is a Swedish classic, going back to the early 1950s. Still manufactured in Sweden, the Hinza bag is a Swedish household staple taking quality, environment and working conditions into careful consideration. All Hinza bags are long-lasting, durable and recyclable, thus saving additional natural resources and minimising any environmental impact. 
The Hinza bag is excellent for storage – a colourful, stylish alternative for keeping things organized at home and at the office. The Hinza bag provides easy access to your crafts, tools and toys as well as being  the obvious choice for picnics and outings as for pool parties and shopping trips. It is perfect for hobby and gardening jobs as it is sturdy and easy to clean. 
Our current offering of the Hinza bag goes even further made from a revolutionary sugarcane bio-plastic! 
Large Hinza bag
Height with handles: 42 cm.  Height without handles: 25 cm

Length: 44 cm.  Width: 17 cm

Volume: 15 litres

Carrying capacity: 15 kg
---